A different type of CSR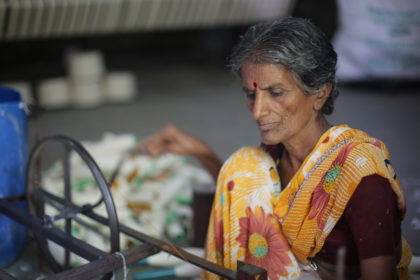 She is way past her retirement age and at 75, really does not need to work for a living. But given her unusual circumstances, we at Keshardeo decided she was welcome to continue as a part of our workforce.
She is a mother of 3, her 2 daughters and one son are married and living in different towns, she stays with her ailing husband in a modest cottage – and her only work skill is proficiency at spinning yarn on the old-fashioned charkha.
Spinning yarn keeps her busy through the day, helps her earn a decent living (at current Government-stipulated labour wages) and pay for medical treatment for herself and her husband. She enjoys her financial freedom and can be seen occasionally in the local market, treating herself to a new shringaar set or a saree. She is known and addressed fondly as Aaji – meaning grandmother in Marathi – and her presence at the yarn doubling facility always puts a smile on our faces.
It's not a textbook definition of Corporate Social Responsibility – but if it helps Aaji live a better life by putting to good use her only professional skill, we see it as a small but positive step towards women's empowerment in semi-urban India.