How we are more cost-effective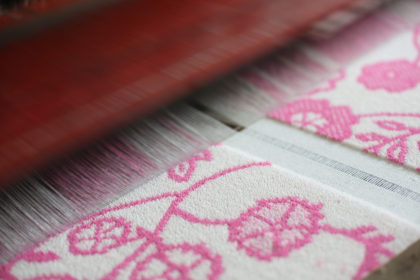 If you thought that Jacquard loom woven towels are old technology, you are most definitely correct. But should you choose to take a minute of your time and read this post, you would agree that this process serves a greater common good.
Keeping a rich tradition & rare art alive
Jacquard looms rely on human skill to produce a quality product. This skill is not taught or acquired from a textbook – it is the result of first-hand knowledge handed down to the next generation by skilled fathers and mothers. Textile weaving is a rich tradition and and a rare art – and we are doing our bit to not only keep it alive, but also promote it beyond  Indian shores.
Increased employment
With textile mills across India – especially the state of Maharashtra – being shut down and sold off to realty developers for increasing the urban housing demand, mill workers were suddenly left with no choice but to look for an alternative means of income. Very often, this meant a substantial drop in income and a prolonged learning curve for even the most basic of modern office skills. With their art renegaded to a dismal future, most were forced to work as daily wage construction labourers at the very same sites where their mills once proudly stood.
Our unique approach directly results in increased employment for a class of skilled artists that was otherwise destined for oblivion.
Ensuring better skills and lowered costs for our customers
Low-tech is not always bad – especially if it provides distinct advantages in the form of rare skills, quality finished products and considerably lesser costs! Our facilities are home to over a hundred (and growing!) skilled workers who are easily rated as the masters of their craft. Their combined skills and collective efforts ensure a beautiful and product for you, backed with the economies of scale!
We are indeed proud to be able to do our bit for these artists, while also steering a viable business – slowly, yet steadily – to success.