Welcome to Keshardeo Combines, a trusted name in 100% cotton premium woven bath linen.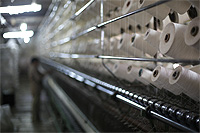 Over the past 22 years of our presence in the terry towel business, we have evolved from being an exporter to a manufacturer to India's leading terry towel exporter with a strong emphasis on design and research. We are part of the KESHARDEO GROUP active in the Indian textile industry since 1945.
Our outstanding perfomance has even been recognized by the Government of India, by accrediting us with a ONE STAR EXPORT HOUSE status.
Our activities encompass manufacturing and export of ready made cotton made-ups and terry towels. With our unsurpassed reputation for quality and 99% plus on-time delivery schedules, we aim to deliver more.
Like we say – "FEEL THE DIFFERENCE…", when you work with us. In our third generation owner driven business, you will feel a professional attitude in our approach to you.
LEGEND
Doubling
Dyeing
Weaving
Stitching
QC / Packing